Wall System Finishes
Color and texture define space and are at the very center of the designer's thinking.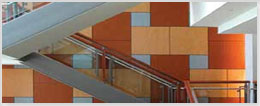 Here you will find the industry's most complete selection of finishes and materials.
Contact Us...

Do you have questions about our systems or installations?
Contact East Coast Architectural
for assistance.

Primary Space Finishes
Wood Veneers
Marlite Finish

Bold. Rich. Festive. Subtle.

There's a FSC & SFI certified veneer for every wall design in every interior space.

A diverse selection of economical, richly detailed wood grains and abstract prints that are touch durable and easy to maintain.

Azure Woods
Metal Panels

Marlite's Exclusive imaging process that captures the exceptional depth, brilliance and realism of wood's natural beauty without the environmental impact.

From soft and natural to dominant and bold, metal veneers enhance space with structure and stability. Metal veneers are anodised or clear-coated for a durable, easy to clean finish.

Stone
High Pressure Laminates

The diversity of color and pattern make stone an attractive choice for your wall design.

Select from a wide variety of high pressure laminate from all the major national brands.